Vinut OEM Arabica Vanilla Coffee Bean.
Arabica coffee beans are one of the most popular types of coffee beans in the world. Arabica coffee is known for its mild, sweet flavor and low acidity. Vanilla is a popular flavoring that is often added to coffee to give it a sweet, creamy taste.
The Perfect Blend: Arabica and Vanilla:
When Arabica coffee is blended with vanilla, Arabica Vanilla Coffee Bean creates a unique flavor profile that is both rich and aromatic. The sweetness of the vanilla complements the mild taste of Arabica coffee, resulting in a smooth and balanced cup of coffee. Arabica vanilla coffee is often made by adding natural vanilla extract or vanilla flavoring to the coffee beans during the roasting process. This allows the coffee beans to absorb the flavor and aroma of the vanilla, resulting in a delicious and flavorful cup of coffee.
Arabica Vanilla Coffee Bean benefits:
Rich in Antioxidants: Arabica Vanilla Coffee Bean are rich in antioxidants, which can help reduce the risk of chronic diseases such as cancer and heart disease.
Energy Boost: The caffeine in Arabica Vanilla Coffee Bean can help increase energy levels and improve mental focus.
Improved Mood: Coffee has been shown to increase the production of neurotransmitters such as dopamine and serotonin, which can help improve mood and reduce stress.
Reduced Inflammation: Some studies have suggested that coffee consumption may help reduce inflammation in the body, which can help protect against chronic diseases.
Improved Digestion: Coffee has been shown to stimulate the production of stomach acid, which can help improve digestion.
Our Services
We provide OEM/ODM/Private label beverage manufacturing services. Developing just the right taste for your market and customers. Quality proof product control. Flexible production capacity with short lead time. Competitive price vs product value
Vinut has been developing OEM/ODM products for many years. Our dedicated Research and Development team closely follows developing global trends in the health food markets in Europe, America, and Asia to ensure we can introduce the latest products for customer needs and requirements.
Vinut has also collaborated with well-known international firms using our integrated one-stop OEM/ODM services to produce and manufacture the best products with excellent services.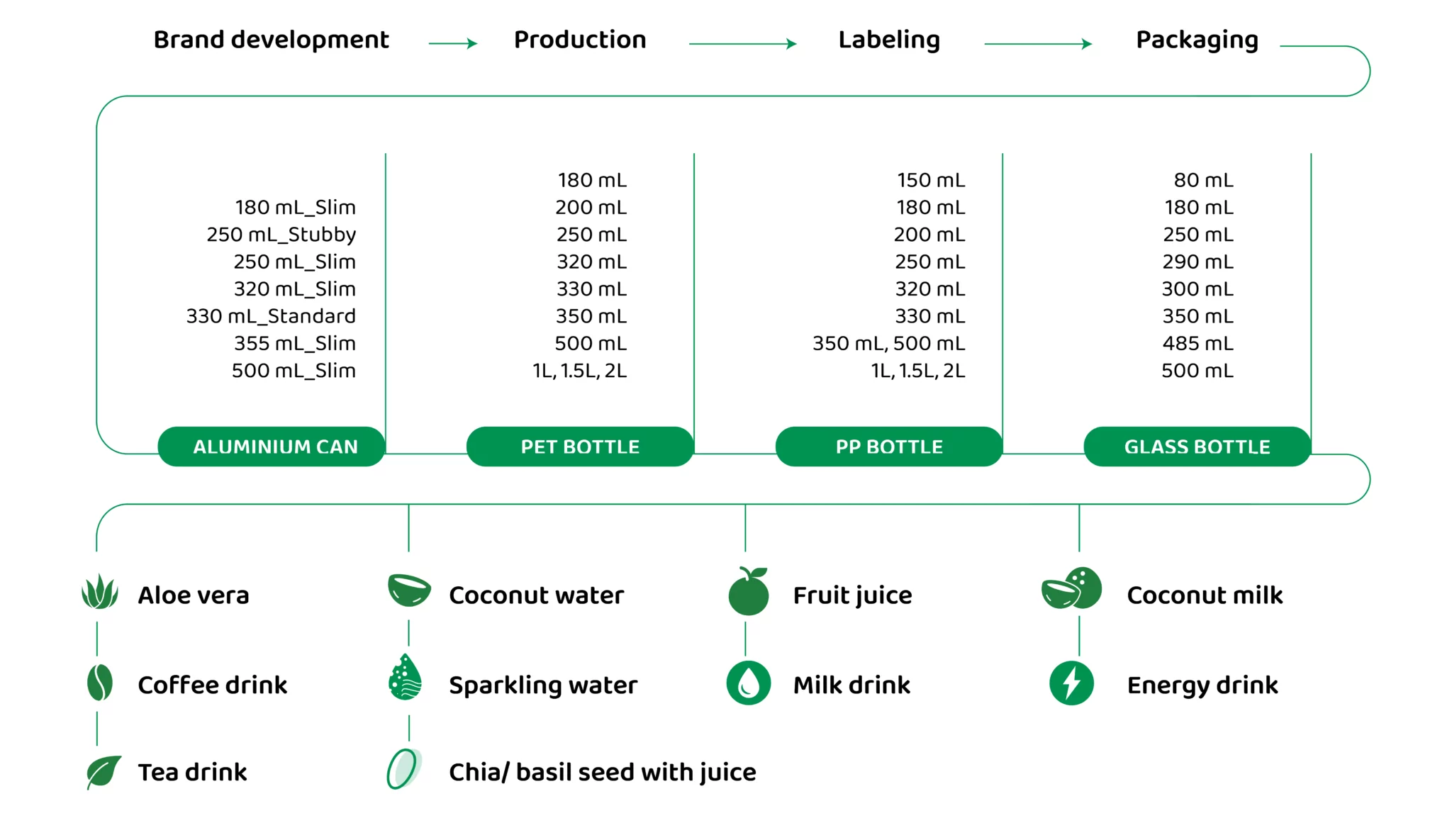 The process from consultation and getting an idea to finish, we always actively contact customers to update the operation status and receive feedback from customers during the use of products and services. From that point of view, the process of providing timely support brings satisfaction to customers. Keep up to date on the latest products, services, and incentives.
Other products that we provide:
Fruit Juice: real fruit juice, fresh fruit juice, mixed fruit juice, best fruit juice, keto Pepe juice fruit,…
Aloe vera juice: original aloe vera drink, aloe vera drink, aloe vera with flavor fruit, best aloe vera juice,…
Basil seed drink: basil seed drink, basil seed drink with fruit juice…
Coconut: coconut milk, original coconut water, coconut water with flavor fruit, coconut water for kids…
Energy drink: energy drink with flavor, energy drink zero sugar, healthy zero sugar mix energy,…
Juice milk: juice milk with fruit juice, healthy milk drink…
Non-alcoholic beer: premium non-alcoholic beer, non-alcoholic beer with flavor fruit…
Sparkling water: sparkling beverages, sparkling water with flavor fruit, healthy sparkling water, sparkling soft drinks…
VietNam coffee drinks: arabica coffee, robusta coffee, cold brew coffee, free sugar, vanilla, matcha, latte, cappuccino, aloe vera,… fruit juice coffee.
Tea drink, vegetable juice.
Certifications.