Vinut OEM Coffee drink with Blueberries.
What is a coffee drink with Blueberries?
Coffee is a beloved beverage enjoyed by millions around the world. It is known for its rich and complex flavor that provides a boost of energy and helps people stay alert and focused. But what if you could take this drink to the next level by adding a delicious and healthy ingredient to it? Introducing the coffee drink with blueberries, a unique and tasty way to enjoy your daily dose of caffeine.
The Perfect Blend: Coffee and Blueberries:
Are you a coffee lover looking for a new twist on your favorite drink? Or perhaps you're a fan of Blueberries and looking to add a new flavor to your favorite fruit? Either way, the perfect blend of coffee and Blueberries might just be what you're looking for! Coffee and Blueberries may seem like an odd combination, but when blended together, they create a delicious and unique flavor that is sure to delight your taste buds.
Coffee drink with Blueberries Benefits:
Antioxidants: Blueberries are packed with antioxidants, which can help protect your cells from damage caused by free radicals. Antioxidants are also believed to have anti-inflammatory properties.
Improved cognitive function: Some studies have suggested that blueberries may help improve cognitive function, including memory and concentration. Combining blueberries with coffee, which contains caffeine, may enhance these effects.
Reduced risk of heart disease: Blueberries are high in flavonoids, which have been linked to a reduced risk of heart disease. Coffee has also been associated with a lower risk of heart disease, so combining the two may provide even greater benefits.
Lowered risk of type 2 diabetes: Some research has suggested that blueberries may help improve insulin sensitivity, which could lower the risk of developing type 2 diabetes. Coffee has also been linked to a reduced risk of type 2 diabetes.
Our Services
We provide OEM/ODM/Private label beverage manufacturing services. Developing just the right taste for your market and customers. Quality proof product control. Flexible production capacity with short lead time. Competitive price vs product value
Vinut has been developing OEM/ODM products for many years. Our dedicated Research and Development team closely follows developing global trends in the health food markets in Europe, America, and Asia to ensure we can introduce the latest products for customer needs and requirements.
Vinut has also collaborated with well-known international firms using our integrated one-stop OEM/ODM services to produce and manufacture the best products with excellent services.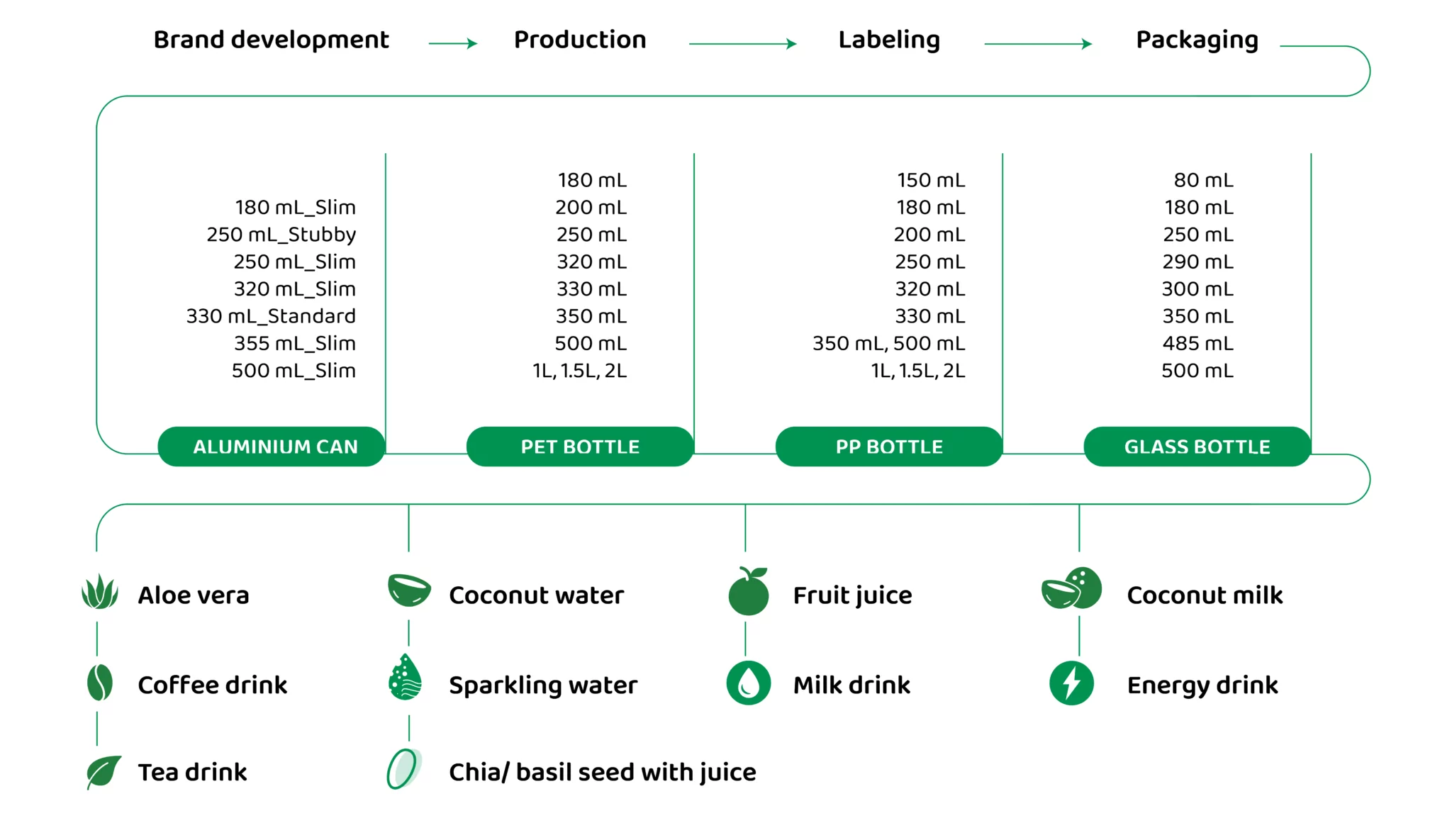 The process from consultation and getting an idea to finish, we always actively contact customers to update the operation status and receive feedback from customers during the use of products and services. From that point of view, the process of providing timely support brings satisfaction to customers. Keep up to date on the latest products, services, and incentives.
Other products that we provide:
Fruit Juice: real fruit juice, fresh fruit juice, mixed fruit juice, best fruit juice, keto Pepe juice fruit,…
Aloe vera juice: original aloe vera drink, aloe vera drink, aloe vera with flavor fruit, best aloe vera juice,…
Basil seed drink: basil seed drink, basil seed drink with fruit juice…
Coconut: coconut milk, original coconut water, coconut water with flavor fruit, coconut water for kids…
Energy drink: energy drink with flavor, energy drink zero sugar, healthy zero sugar mix energy,…
Juice milk: juice milk with fruit juice, healthy milk drink…
Non-alcoholic beer: premium non-alcoholic beer, non-alcoholic beer with flavor fruit…
Sparkling water: sparkling beverages, sparkling water with flavor fruit, healthy sparkling water, sparkling soft drinks…
VietNam coffee drinks: arabica coffee, robusta coffee, cold brew coffee, free sugar, vanilla, matcha, latte, cappuccino, aloe vera,… fruit juice coffee.
Tea drink, vegetable juice.
Certifications.